Connexus Tech offers a comprehensive range of IT services tailored to meet your business needs. Our expert team ensures the smooth operation of your IT systems, providing you with hassle-free IT services and peace of mind.
With our Managed Service plans, you gain access to a dedicated IT department at a fraction of the cost. We offer essential services such as server and network management, helpdesk support, and cloud computing solutions. Our team handles everything from system monitoring and security maintenance to software updates and data backups, ensuring the optimal performance and security of your IT infrastructure.
By partnering with Connexus Tech, you can focus on your core business operations while we take care of your IT needs. Our experienced professionals deliver prompt and reliable support, resolving any issues that arise efficiently. With our customized solutions, you receive personalized attention and a service package tailored to your specific requirements.
Experience the benefits of a seamless IT environment, enhanced productivity, and reduced downtime with Connexus Tech as your trusted MSP. Let us handle your IT challenges while you focus on growing your business.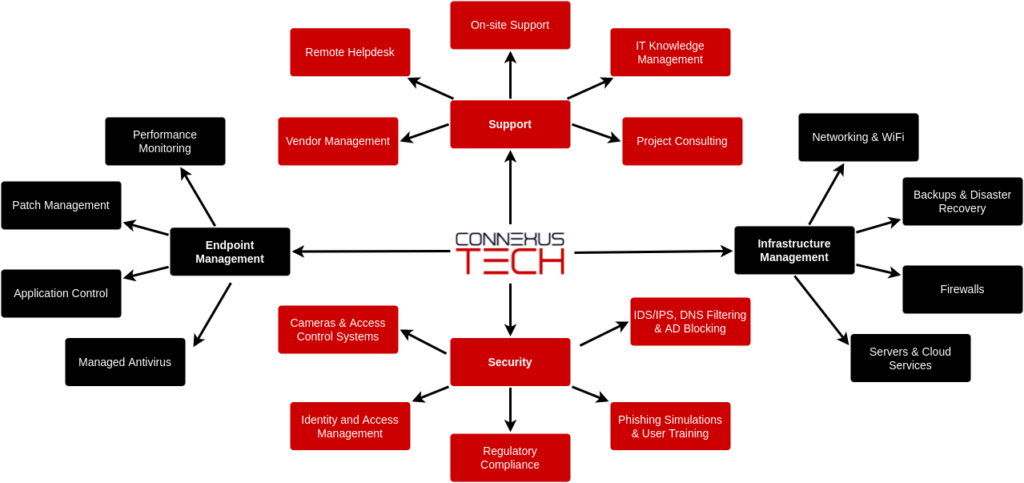 ---
Connexus Tech is your trusted provider of comprehensive IT services and consulting in the greater Phoenix area. Whether you're seeking further information on our offerings or eager to explore how we can tailor technology solutions to meet your specific needs, we invite you to get in touch with us. Reach out to us via phone or email, and our knowledgeable team will be delighted to assist you in harnessing the power of technology for your success.
---